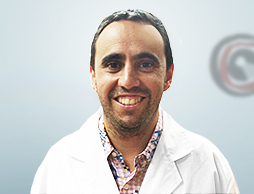 He graduated in Medicine and Surgery at the Universitat de Barcelona and he holds a PhD of the Universitat Autòmona de Barcelona.
He attended the residency training program (MIR) at the Hospital de Bellvitge of L'Hospitalet de Llobregat. In Oftalmoplus – IOCAB he works at the Department of Retina and Cataracts.
He is the author of several research studies and he participated in multiple Congresses. He is also member of the American Academy of Ophthalmology, of the Sociedad Española de Retina y Vitreo (SERV), of the European Vitreo Retina Society (EVRS) and full member of the Societat Catalana.
WHO WE ARE?
Oftalmoplus is an ophthalmology reference center in Barcelona. We guaranteed it because more than three decades of eye health experience back us up. Oftalmoplus is a diagnosis and treatment center for any eye problem, where you will be able to talk with a reliable ophthalmologist and to get any medical test you need. Furthermore, in order to offer full service, we also have IOCAB, Institut Oftalmològic de Cirurgia Avançada de Barcelona, an exclusive clinic specialized in ophthalmic surgery. Both centers are headed by Dr. Joaquim Cabot.
Oftalmoplus. The most positive vision.
Oftalmoplus: The most positive vision
Ophthalmologists Chart
ANESTHETISTS
Dr. Josep Capell
Dra. Mireia Castells
Dr. Jesús Santaliestra
Dra. Montserrat Murillo
Dr. Carlos Gil
RECEPCTION
Cristina Hernando
Juliá Morato
Lupe Alarcón
OPTOMETRISTS
Marta Vivas
Paz Campillo
David Guerrero
Miguel Rodilla
OPTOMETRY ASS./ OPERATING ROOM/ CUSTOMER
Meli Perez
Verónica Valereo
Thais Gadea
NURSES
Carmen Cabot 
Vanesa González
COMUNICATION
AND MARKETING
INSTITUTO OFTALMOLÓGICO DE CIRUGÍA AVANZADA DE BARCELONA
The own Surgery Center in Oftalmoplus
WATCH OUR  YOUTUBE CHANNEL
In Oftalmoplus Youtube Channel, Dr. Joaquim Cabot personally explains, in an easy and comprehensible way, the main eye conditions. In other videos, you can see the facilities of Oftalmoplus and IOCAB, as well as the latest news about ophthalmology and more. Always in direct line with our patients and followers.
CONTACT WITH US 
Report the form information and we will contact you