CATARACTS
We are experts in cataracts surgery
CATARACTS
Which are the main symptoms of cataracts?
Mainly, blurry vision, vision loss and/or eye discomfort in bright light, lack of adaptation to light changes, etc.
What is cataract surgery about?
The surgery involves removing the cloudy lens and replacing it with an intraocular lens. The process is called phacoemulsification: ultrasound waves that soften and break-up the lens so it can be removed by suction. The femtosecond laser is also used to carry out the capsulotomy and the stromal incisions.
When is the best time to have surgery?
We take up every case, but currently, it is better not letting the cataract to tighten, in order to be removed inside the eye. This way it will be a minimally invasive surgery.
Is it a complex surgery?
As with any surgery, it might have a risk, but in Oftalmoplus we are pioneers in cataracts surgery. Patient does not need sedation, just anesthesia drops, the surgery lasts a few minutes and he can leave the clinic after short time by himself. Furthermore, in the same surgery, it is possible to remove presbyopia, astigmatism, hyperopia or myopia.
Can I have surgery in both eyes at the same time?
It is possible, but we advise to wait from four to seven days between surgeries, in order to minimize the risk of infection in both eyes. Anyway, the post-surgery period is very short.
SEE LIFE WITH MORE CONFORT
NO GLASSES, NO CONTACT LENSES
Do you want to see the interview with Dr. Joaquim Cabot?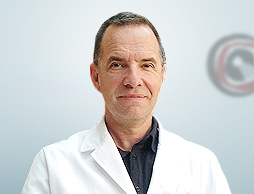 Dr. Joaquim Cabot
Director Médico de Oftalmoplus y de IOCAB
Cirujano oftalmólogo
Visualiza la entrevista realizada al Dr. Joaquim Cabot sobre las cataratas y su tratamiento, en el siguiente vídeo.
CONTACT WITH US 
Report the form information and we will contact you