AGE -RELATED MACULAR DEGENERATION (AMD)
All about macular changes in the eyes
AGE-RELATED MACULAR DEGENERATION (AMD)
Which are the symptoms I should be aware of regarding macular problems?
The warning symptoms are: straight lines look wavy or crocked; objects appear distorted in shape, etc. And, with advanced disease: a dark or empty area appears in the center of the vision or loss of clear color vision.
I have heard about two different kinds of macular degeneration, dry and wet, what is the difference?
With dry AMD, the macula (photosensitive tissue) atrophies gradually. With wet AMD, abnormal blood vessels appear under the macula and blur central vision.
Which is the treatment?
Good results are being achieved for wet AMD through intraocular injections. Currently, dry AMD has no treatment; however, it is possible to slow the development with an early diagnosis.
SEE LIFE WITH MORE CONFORT
NO GLASSES, NO CONTACT LENSES
Do you want to see the interview with Dr. Joaquim Cabot?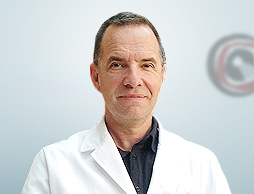 Director Médico de Oftalmoplus y de IOCAB
Cirujano oftalmólogo
Visualiza la entrevista realizada al Dr. Joaquim Cabot sobre la degeneración macular y su tratamiento, en el siguiente vídeo.
CONTACT WITH US 
Report the form information and we will contact you